Luxury during your visit to Istanbul
Family Suite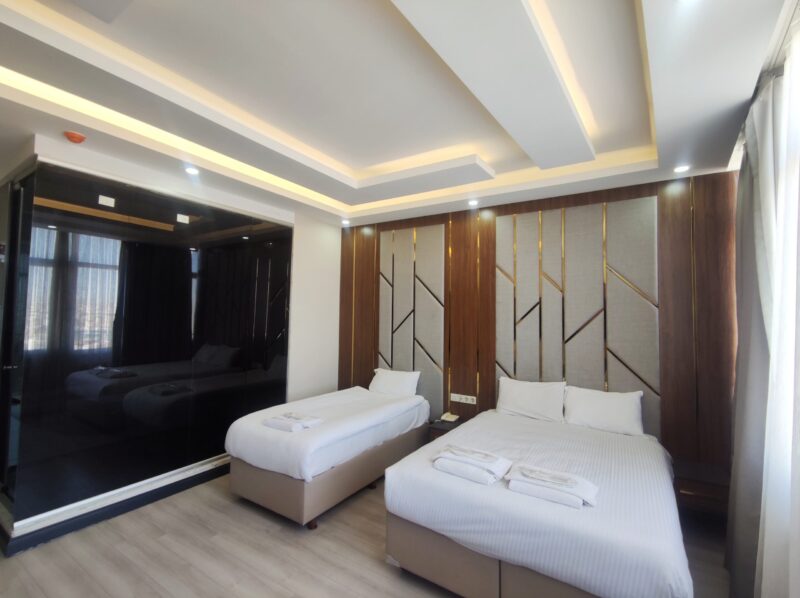 Welcome to our luxurious family room with a Jacuzzi, designed to offer you and your family the ultimate in relaxation and comfort. As you step inside, you'll be greeted by a warm and inviting atmosphere, with tasteful decor and modern amenities.

The room features a variety of bedding options to accommodate your family's needs, including a king-size bed, a queen-size bed, and twin-size bunk beds. Each bed is fitted with plush pillows and crisp linens to ensure a good night's sleep. Large windows let in plenty of natural light and offer a beautiful view of the surrounding area.

The highlight of this room is the spacious Jacuzzi, where you can unwind and soak in the warm, bubbling water after a long day of sightseeing or activities. The Jacuzzi is large enough to accommodate several people at once, making it the perfect spot for family fun or romantic moments.

For your convenience, the room also features a work desk with an ergonomic chair, perfect for catching up on work or planning your itinerary. There is also a seating area with comfortable armchairs or a sofa, providing a cozy spot for relaxing or enjoying a cup of coffee.

For your entertainment, there is a flat-screen TV with cable channels and high-speed Wi-Fi access throughout the room. The room also has a mini-fridge and coffee maker, so you can enjoy a refreshing drink or snack at any time of day.

The private bathroom is spacious and modern, with a bathtub or walk-in shower, plush towels, and complimentary toiletries to make your stay even more comfortable.

Overall, our family room with a Jacuzzi is the perfect choice for families seeking the ultimate in relaxation and comfort. With everything you need for a luxurious and enjoyable stay, our family room with a Jacuzzi is sure to exceed your expectations.